I am gonna blog about my Ekin's CD collection today because last night I did a 'stock check' of my CDs and I found that I have some missing albums and that made my collection not complete! I am sure my brother took it or somehow it's lost in between the boxes from moving houses a dozen times.
Haiz, it is very sad lor cuz I might not be able to find that particular album again. Nonetheless I will try to find them.
This is my partial collection of the albums. From his first album at the top left hand corner published in 1992 to the latest one I got this year, arranged in sequence! However, this is not my full collection as I excluded the soundtracks and of course there is a missing album, The Best Show 3. I remember buying it before but I really have no idea where is it? I am suspectin it was mixed up with my parents CDs in their boxes.
This is the missing one:
Then I also have double copies of some of the CDs. It sounds crazy but there are reasons why I buy double copies.
Senses, I bought double copies not because he is top naked ok... I think because they had a promotion after I eagerly bought my first copy. They were giving out posters or something. So no choice I bought another copy to get that poster. LOL.
Myself, I bought double because I first bought the Singapore version (the left one) then I asked my friend to help me get the Hongkong version (the right one). The hongkong version had a more beautiful packaging. Heh.
Ekin Magic, I think this is quite obvious why I got 2 copies. Because the packaging is different although the songs are the same.
This one was very sad case. I bought the first copy then I think my sister or my mum one day accidentally crumpled the lyrics booklet in the album! I was very upset so I bought another one. The other one is brand new. I didn't even open the plastic yet because I only used the first copy I bought.
This is a very memorable album. It is the first album I bought and the first time I see EKIN live. :) At that time Ekin was at his peak and he had a photograph session at Chijmes. I didn't have experience then and was alone without any fanclub backing me or what. So I went there slightly earlier than event timing and guess what. The whole chijmes was packed with people like sardines in a tin. I can't even get in and even around it, there were tonnes of people surrounding the building. The next day newspaper reported that fans broken Chijme's windows and climbed the walls just to look at him. LOL... Those were the days..
Oh and as to why I got double copies, that is because I got his autograph on one copy. And in order not to damage the autograph with my CD player, I bought another copy. One for listening and one for keeping.
The autograhed one.
The Best show 2. I can't remember why I have 2. Probably because got freebies for the second purchase. LOL. Must be posters again.
Last one, this one the later album has got like 5 more songs in it and the packaging is different also. LOL.
I think Ekin is 不老的传说. He didn't age at all from his last concert held 13 years ago..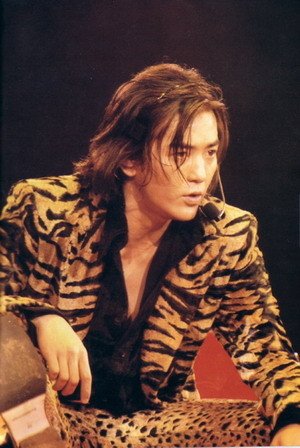 I still got other collections like his movies which also is not complete because because some are no longer available in market. That is very sad lor... but I think my mum is very happy because I have too many things in my room already...